To All the Boys krijgt spin-off-serie op Netflix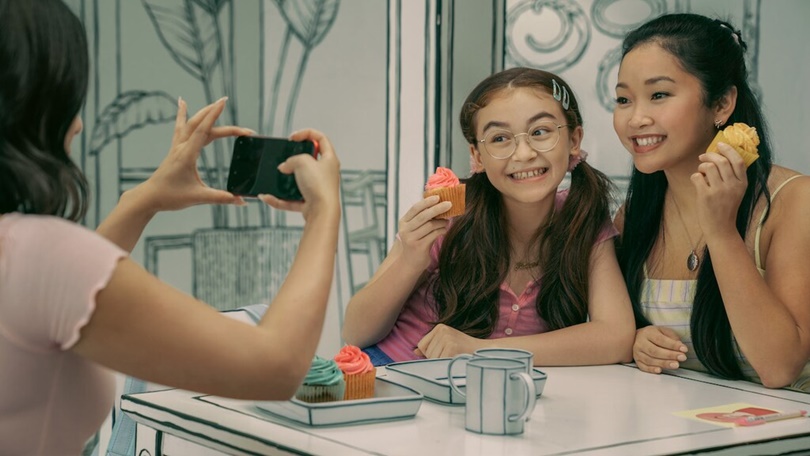 6 april 2021
Wie denkt dat hij af is van To All the Boys komt bedrogen uit, want de populaire Netflix-filmreeks krijgt een heuse spin-off! De streamingdienst werkt aan een serie met daarin een ander hoofdpersonage.
To All the Boys moet franchise worden
To All the Boys: Always and Forever betekende eerder dit jaar de zwanenzang van de filmtrilogie, maar volgens Variety is Netflix dus van plan om het universum van To All the Boys uit te bouwen.
Hoe het afloopt tussen Lara Jean (Lana Condor) en Peter Kavinsky (Noah Centineo) is natuurlijk al bekend (spoiler: het is een happy ending) en daarom is het de bedoeling dat de aankomende serie een nieuw verhaal vertelt, dat van Lara Jean, Kitty Covey (Anna Cathcart). In de spin-off gaat zij zélf op zoek naar ware liefde.
Schrijver is binnen!
Netflix heeft de schrijver van de To All the Boys-boeken, Jenny Han, al aan boord gehaald en zij wordt ontwikkelaar, schrijver en executive producer van de nieuwe serie. Die staat overigens nog wel in de kinderschoenen, een release hoef je niet snel te verwachten. Wat in ieder geval bekend is, is dat de afleveringen van de spin-off dertig minuten gaan duren.
In de films vindt Kitty liefdesbrieven die haar zus Lara Jean aan jongens schreef, maar nooit verstuurde. Ze maakt een ontwikkeling door van piepjong meisje naar puber met een bijzonder scherpe tong. Ook krijgt ze voor het eerst een vriendje.